Arthur Carr. Nottinghamshire & England 1910-1934
Lot 357:
'A Cricket Match between Sussex and Kent' C1850/60's [?]. Hand coloured lithograph of the famous cricket scene set in Ireland's Royal Brighton Gardens. This composite picture features many of the great players and statesman of the day, although they never competed together in the same match. The lithograph with title to lower border, by S. Lipschitz of Hamburg, purported to be a pirate lithograph. Attractively mounted, framed and glazed, overall 32"x26". Minor soiling and minor foxing to image and minor wear to lower border otherwise in good condition
Estimate: £250/350
There are various labels to verso, one headed Towner Art Galley, Eastbourne valuing the lithograph for Miss D. Rait-Kerr at £50, another smaller label for 'The Parker Gallery, Albemarle Street, London' and another large label with typed details of the image 'This picture is an early state of a lithograph by S. Lipschitz of Hamburg of a match in the Brighton Ground. Later states of which at least three exist, bear the names of both the lithographer and of the London publishers. The picture is based on and closely resembles an engraving published in February 1849 by W.H. Mason, engraved by G.H. Phillips from a picture executed by W. Drummond with some assistance from C.J. Basebe. The original painting commenced in 1843 took five years to complete, and it is not surprising to find that in that interval before publication six of the characters had died, and the players changed so that the personae dramatis do not agree with any recorded contest between Sussex and Kent'. The names and clubs of each player are typed below the above statement
Lot 358:
'Key Plate to W.H. Mason's drawing of a Cricket Match at Brighton, between the Counties of Sussex & Kent'. Rare original key plate which accompanied the engraving after the original by William Drummond and Charles J. Basebe, published by W.H. Mason 1849. The print shows the diagrammatic layout of the ground and the players and spectators, many numbered and listed below. Featured names include Felix, the Mynns, Lillywhite, Lord Charles Russell, Wisden, Pilch etc. The print, framed and glazed, measures 16.25"x11". Some creasing otherwise in good condition. Sold with a republished copy of Alfred D. Taylor's 'The Story of a Cricket Picture (Sussex v Kent) 1923' published in 1972
Estimate: £50/80
Alfred D. Taylor in his book 'Story of a Cricket Picture' 1923 states that there are a total of five key plates in existence, three being issued from the house of Mason.
Lot 359: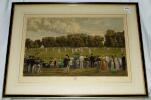 'Eton v Winchester'. Large hand colour etching, by F.G. Stevenson after H. Jamyn Brook, showing a cricket match in progress with spectators to fore and background. Published by Dickinson & Foster, London, 2nd December 1889. Signed by the two artists to lower margin. Attractively mounted, framed and glazed, overall 31"x18.5". Good condition. A rarer image
Estimate: £120/160
Lot 360:

Frank Stanley Jackson. Yorkshire & England 1890-1907. Excellent photogravure of Jackson, former England Captain who played twenty Tests from 1893 to 1905, 'stepping out to drive', taken from the original action photograph by George William Beldam. Signed to lower border by Jackson in pencil. Published by the Swan Electric Engraving Company, London, on 1st September 1905. Mounted, framed and glazed in modern frame, overall 25"x32.5". Light foxing to image and margins otherwise in very good condition. A classic image from the golden age of cricket
Estimate: £80/120