Sporting Ephemera, Golf & Tennis
Lot 912:
Horse and Greyhound racing. Colour and mono tin match box holder with image of racing at Ascot 'The Royal Hunt Cup' to one side and to the other 'Greyhound Racing at The White City'. Produced with the 'Compliments of Mr and Mrs A. Kelly, The Admiral Napier, New Cross'. Minor wear, good condition. G
Estimate: £30/40
Hammer price: £15
Lot 913:

Epsom Derby winning horses. Six shot glasses, each depicting a colour transfer printed image of a winning horse to side, name and date below. The horses featured are 'Hyperion 1933', 'Windsor Lad 1934', 'Bahram 1935', 'Mahmoud 1936', 'Tulyar 1952' and 'Pinza 1953'. The glasses with gold lustre to rims, each measuring 2.25" tall. Odd faults, good condition
Estimate: £30/40
Hammer price: £32
Lot 914: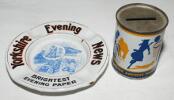 'Yorkshire Evening News. Brightest Evening Paper'. Original tin advertising ashtray with images to centre of cricket, football, horse racing and motoring. 5.25" diameter. Odd minor wear otherwise in very good condition. Sold with a 'Trustees Savings Bank' tin money box with sporting scenes to sides. 3" tall. Qty 2
Estimate: £30/50
Hammer price: £35
Lot 915:

'Sporting Bears'. Selection of cups, mugs, plates, saucers etc featuring transfer printed scenes of bears playing various sports including cricket, golf, football and roller skating. Four various cups and saucers, three various sized mugs, two plates and two saucers. Odd varied makers stamps to bases. Odd minor chips and wear otherwise in good condition
Estimate: £40/60
Hammer price: £35
Lot 916:
Sporting autographs c1950-1955. Brown autograph album comprising a comprehensive and extensive collection of approx. eight hundred autographs relating to cricket, football, rugby union and boxing, signed to laid down pages, pieces and cutting images, with some postcards and photographs. Individual football signatures include Willie Davie (Huddersfield Town), Arthur Milton (Arsenal, Gloucestershire & England), Armand Penverne and Robert Jonquet (French international footballers) etc. Football teams include Manchester United (11 signatures) including six members of the Munich air disaster including Roger Byrne and Mark Jones who both died, and survivors, Bill Foulkes, Johnny Berry, Dennis Violett and Ray Wood. Other teams include Blackpool (8), Sunderland (4), Luton Town (8), Glasgow Celtic (15), Blackburn Rovers (12), Lincoln City (9), Leeds United (19 on two separate pages), Bristol Rovers (7), Notts County (14), Liverpool (23), West Ham (10), Charlton Athletic (7), Burnley (7), Doncaster Rovers (10), Sheffield United (7), Aston Villa (12), Manchester City (20), Rotherham United (12), Birmingham City (12), Hull City (11), West Bromwich Albion (11), Nottingham Forest (12), Luton Town (11), Bristol Rovers (two pages of 26 and 13 signatures), Tottenham Hotspur (4), Preston North End (4) etc. Original real photograph advertising postcard of the Blackpool F.C. team all wearing 'Aqua-Peer' Raincoats, signed by Bill Perry. A small mono press photograph of Jimmy Hagan (Sheffield United & England), signed by Hagan, signature faded but legible. Individual rugby union players include D.G.S. Taylor (England and British Lions rugby union international 1955), Keith McMillan (Sale and Scotland), England rugby union internationals including Ryan, Hazell, Young, Sykes, Gregory, Kendall-Carpenter, Holmes, Butterfield, Regan etc. Rugby Union teams include Stroud (14), Bath (15), Barbarians who played v Wales 1953 (15), Northampton (15), Cambridge University (18), Aberavon (14), Cornwall County (13), Cheltenham (16), Newport (12), The Army (14), Sale (17), Cardiff (41 on three pages), Wasps (15), Gloucester (15), New Zealand tourists 1952/53 (23) etc. Boxers include a signed postcard of Dai Dower and a further signature of Dower (Wales, British Flyweight Champion), and Gordon Hazell. Cricket teams include India tour to England 1952 (9), Derbyshire (23 on two pages), Glamorgan (11), Gloucestershire (33), Hampshire (6), Northamptonshire (5), Nottinghamshire (10), Lancashire (6), Somerset (9), Surrey (4), Sussex (13), Warwickshire (12), Worcestershire (16), Yorkshire (12) etc. Individual cricket signatures include nine umpires of the period including Jones, Davies, Baldwin, Connell, Pothecary etc., four individual notable West Indies cricketers, Headley, Alexander, Constantine and Ramadhin, also Barnett (Australia), Fellows-Smith (South Africa), Merritt (New Zealand), Bailey, Graveney, Cowdrey, Sheppard and Evans (England). Odd signatures duplicated. Good condition
Estimate: £250/350
Hammer price: £220
Lot 917:
No lot
Estimate: £0/0
Hammer price: withdrawn
Lot 918:
'Bobby Jones'. Robert Tyre Jones Jr. 1902 to 1971. A selection of ephemera relating to Bobby Jones playing an exhibition match at Royal Lytham & St. Annes Golf Club in 1944 in aid of the war effort. According to the press report by 'Spectator' from The [Blackpool] Gazette & Herald of May 18th 1946 'An officer of the United Sates Air Force walked into the clubhouse at Royal Lytham & St. Annes and asked "Chance of a game?". He was invited to sign the visitors book. He wrote in the book "Robert T. Jones. Georgia, U.S.A.". That was how Bobby Jones, one of the greatest golfers of all time, came back to the course where in 1926 he won the Open. So casually, unconcernedly, he strolled in again'. The journalist was not permitted to disclose his visit until two years later due to war-time restrictions.... Jones stayed for around a week and played several rounds. At the weekend was the highlight of the visit, a match in which the former champion played with T.R. Fernie, the Royal Lytham and St Annes professional against Harold Critchley and John Bradbury, two of Flylde's best amateur golfers. Jones was in the losing partnership. He lost a £1 note- and autographed it. In fact he lost three during the week..... all playing against John Bradbury....

The ephemera, being sold by the descendants of John Bradbury, from the visit consists of a photograph of Jones, Colonel Todd and Colonel Bullon[?] standing outside the clubhouse on the 18th green at Lytham, all four holding golf clubs, 10"x8.5", another showing Jones on the course, 'approaching the 6th green' with players and a few spectators behind him, including Bradbury. All the photographs are dated 'August 1944' and have stamps for 'Official photograph U.S. Army Air Forces' to verso. 4.75"x3.75", a one pound note won in the match, signed to border by 'Robert T. Jones' and a note handwritten by John Bradbury, on the back of a William Deacons Bank counter exchange slip [Bradbury was the bank manager] and dated 3rd August 1944, confirming ' £1 note enclosed won by me from Bobby Jones and autographed by him. He then gives the scores of the match and finally finishes by stating 'One of the most delightful and happiest events in my whole golfing career. Signed J.C.B.'. There is a further note which we presume was given to John Bradbury's son 'To John, with best wishes that you'll be a better golfer than your dad, which is wishing a lot'. Signed 'Bob Jones'. Plus a photocopy of the two column press report with two small images of Jones dated 18th May 1946 and a copy of 'Golf World Magazine' dated May 1986 which has a seven page feature on '100 years of Royal Lytham & St. Annes' and mentions Bobby Jones visit to the club in 1944 'In 1944 he [Jones] played with borrowed clubs in an exhibition match against a two-handicap member, John Bradbury. The stake as £1 and when Jones lost he autographed the note, which Bradbury kept framed on his mantelpiece'. A unique and historic collection of ephemera from the Bobby Jones visit to the Royal Lytham & St. Annes Golf Club in war-time Lytham & St. Annes and Blackpool. Good condition
Estimate: £800/1200
Hammer price: £800
Robert Tyre Jones Jr. (1902 -1971) was an American amateur golfer who was one of the most influential figures in the history of the sport, he was also a lawyer by profession. Jones founded and helped design the Augusta National Golf Club, and co-founded the Masters Tournament. The innovations that he introduced at the Masters have been copied by virtually every professional golf tournament in the world.

Jones was the most successful amateur golfer ever to compete at a national and international level. During his peak from 1923 to 1930, he dominated top-level amateur competition, and competed very successfully against the world's best professional golfers. Jones often beat stars such as Walter Hagen and Gene Sarazen, the era's top pros. Jones earned his living mainly as a lawyer, and competed in golf only as an amateur, primarily on a part-time basis, and chose to retire from competition at age 28, though he earned significant money from golf after that, as an instructor and equipment designer. He won the US Open in 1923, 1926, 1929 and 1930 and The British Open in 1926, 1927 and 1930.

During World War II, Jones served as an officer in the U.S. Army Air Corps. His superiors wanted him to play exhibition golf in the United States, but Jones was insistent on serving overseas. In 1943 he was promoted to major and trained as an intelligence officer, serving in England with the 84th Fighter Wing, which was part of the Ninth Air Force. While in England, he made the acquaintance of General Dwight D. Eisenhower. Landing in Normandy on June 7, 1944, Jones spent two months with a front line division as a prisoner of war interrogator, reaching the rank of lieutenant colonel.
Lot 919:

'Bobby Jones'. Robert Tyre Jones Jr. Excellent sepia photograph of Bobby Jones, half length, wearing sleeveless sweater and tie sitting on a bench, signed and inscribed 'To John Bradbury with best regards from Bob Jones'. The photograph measures 8"x10". Bobby Jones played a number of rounds with John Bradbury, a two-handicap member of Royal Lytham St Annes Golf Club, during the summer of 1944 and presumably presented the photograph around that time. Minor wear to corners otherwise in good/very good condition
Estimate: £600/800
Hammer price: £900
Please see previous lot (918) for details of the relationship
Lot 920:
'Bobby Jones'. Robert Tyre Jones Jr. 'Golf is my Game' Bobby Jones. London 1961. Signed and dedicated to front end paper 'For John Bradbury, with best regards, Bob Jones'. Bobby Jones played a number of rounds with John Bradbury, a two-handicap member of Royal Lytham St Annes Golf Club, during the summer of 1944 and presumably presented the book to Bradbury around the time of publication in 1961. Odd minor faults otherwise in good condition
Estimate: £200/300
Hammer price: £420
Please see previous lot (918) for details of the relationship
Lot 921: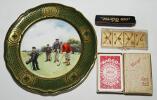 'Kargo or Card Golf'. Castell Brothers Ltd. Set of Golf table cards c1950's. In original box with book of rules. Sold with 'Galloping Golf' five dice golf game 1950's, four boxes of gold wood matches (Italy), crossed golf clubs and ball to each box top and a limited edition 'Spode' golf plate entitled 'The Antique Golf Series. Plate no. 1'. Qty 4. G
Estimate: £30/50
Hammer price: £25
Lot 922: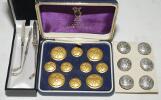 Golf buttons. Open Championship 1990' set of gilt golf buttons, four large and six smaller, each with an image of a golfer to face, produced to commemorate the tournament. In original box. Sold with six silver metal button, each with a golf club featured to face. Plus a three piece golf club manicure set featuring scissors, knife and file, each marked 'sterling'. Good condition
Estimate: £30/50
Hammer price: £30
Lot 923: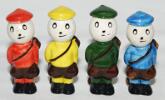 Golf figures. Four Carlton Ware 'Dunlop style' golfing figures. Various coloured hand painted glazed figures with golf bags to back. 3.25" tall. Good condition
Estimate: £30/40
Hammer price: £40
Lot 924:
Golf spoons. Nice selection of four silver hallmarked spoons. Two bear a golf club crest 'K.G.C.' to head of spoon and to handle 'Golden Jubilee 1956', also one with a blue enamel head with crossed golf clubs and ball engraved to back of bowl 'G.G.C.' and another with a golfer about to drive to head and engraved to bowl 'P.T.C. December 1956'. Sold with an attractive silver plated wine bottle holder engraved with 'H.L.G.C. November 1925' to side. 5.25" tall. G
Estimate: £30/50
Hammer price: unsold