Rugby
Lot 1544:

Leicester [Rugby] Football Club. Centenary Season 1980-81. Winners of the John Player Cup 1979, 1980, 1981'. Large mono limited edition print featuring the Leicester rugby squad in caricature by artist Donald E. Green, the print signed by Green and dated 1981. Nicely signed in ink by twelve of the players featured Peter Wheeler (Capt), W.H. 'Dusty' Hare, Les Cusworth, Clive Woodward, Paul Dodge, Terry Burwell, Wayne Richardson, Nick Joyce, Ian Smith, Kevin Williams, Tim Barnwell and Nick Jackson. Limited edition 21/100. Framed and glazed in black, some wear to frame. 16"x21". VG. Sold with a official programme for the F.A. Cup Final 1961, Leicester City v Tottenham Hotspur match played at Wembley on 6th May 1961. Light vertical fold otherwise in good/very good condition. Plus a red, white and blue quartered felt cap, possibly a souvenir from the 1950/60's
Estimate: £50/80
Hammer price: £40
Lot 1545:
Rugby. 'A Touch Down'. Excellent brass metal rounded oblong vesta case with an impressive image of rugby touchdown involving four rugby players to side and to reverse the engraved name 'K.G. Shelitine', lacking ring suspension. Reg No. 159810 to case (c1890). Approximately 1.25"x2". Minor dents to verso otherwise in good condition. An attractive vesta
Estimate: £80/120
Hammer price: £60
Lot 1546:
Leicester Tigers 1999/2000. Two colour printed team photographs, one for the 1999/2000 season, the other slightly later. Both images laid to card mount, each signed to the centre by Martin Johnson (Captain), and to the mount borders by the majority of the two squad members. Signatures include Andy Goode, Neil Back, Austin Healey, Martin Corry, Richard Cockerill, Graham Rowntree, Dean Richards etc. Seventy five signatures in total. Framed and glazed overall 18.75"x24.5"
Estimate: £25/35
Hammer price: £10
Lot 1547:

South African tour of Great Britain 1931-32. 'Illustrated Souvenir of the Springboks, South African Rugby Team Tour 1931-32 England, Ireland, Scotland & Wales'. Compiled and edited by edited by Francis G. Richings and published by C.Mitchell & Co of London 1931. A comprehensive 64 page brochure with team profiles, pen pictures and biographies, fixture list, reminiscences, records of previous tours, photographs, history of South African rugby etc. Good/very good condition. Formerly the property of Arthur William Carr (cricketer). Nottinghamshire & England 1910-1934
Estimate: £40/60
Hammer price: £30
Lot 1548: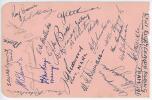 Rugby League. New Zealand tour to England 1951/52. Album page signed by twenty three members of the New Zealand touring party, the majority in ink. Players' signatures include M. Robertson (Captain), Atkinson, Eastlake, Edwards, Haig, Hough, McLennan, B. Robertson, McBride etc. G
Estimate: £40/60
Hammer price: unsold
Lot 1549:

Rugby League. 'Lord Somers, Governor of Victoria Welcoming "The Southern Cross" at Essendon, Melbourne, Victoria, June 13th 1928'. Mono photograph card of Lord Somers welcoming the crew, Capt. Kingsford-Smith, Mr. Ulm, Mr. Warner and Lieut. Lyon, with a large crowd in attendance in the background. Printed title and crew member's signatures to lower border. Handwritten dedication in ink to lower left corner, 'To J. Parkin Esq, Captain English Team with R.P. France[?] comps.'. 8"x6". Some ageing, otherwise in good condition
Estimate: £30/50
Hammer price: unsold
Great Britain were touring Australia in 1928, captained by Jonathan 'Jonty' Parkin. The 'Southern Cross' flew from San Francisco to Brisbane via Hawaii and Fiji in 1928