Cricket Bats, Balls & Equipment
Lot 891:

Samuel Moses James Woods, Somerset, England & Australia 1886-1910. Bookplate photograph of Woods in batting pose titled 'S.M.J. Woods' Pull-stroke', very nicely signed to lower border by Wood's. The bookplate photograph taken from the 'Jubilee Book of Cricket', Ranjitsinhji 1897. Approx 7.25"x10". VG - cricket
Estimate: £50/70
Hammer price: £35
Lot 892:

Hugh Glendwr Palmer Owen. Essex 1894-1902. Excellent sepia studio posed cabinet card photograph of Owen, full length wearing cricket attire with hooped cap and striped tie, holding a cricket ball. The cabinet card by Jessop of New Road, Grays. Minor stain to lower left hand corner otherwise in good/very good condition
Estimate: £50/80
Hammer price: unsold
Hugh Owen played in 133 matches for Essex between 1894-1902, scoring over 4500 runs with a best score of 134. He captained Essex between 1895 and 1902. He played football for Notts County
Lot 893:

John Berry 'Jack' Hobbs, Surrey & England 1905-1934. Original pencil and watercolour full length caricature portrait of Hobbs by artist H.F. Crowther Smith wearing cricket attire and England cap in batting pose stood on the Kennington Oval with the pavilion and gas holder prominent. The figure of Hobbs, giant size compared to the diminished size of the Kennington Oval. Signed by Crowther Smith and dated 1922. Some soiling to image and possible small repaired damage to cricket pad otherwise in good condition. An excellent image and likeness to Hobbs. Mounted, framed and glazed, modern. The portrait measures 6.5"x10" and overall 13"x16"
Estimate: £200/300
Hammer price: £180
Horace Francis Crowther Smith (1873-1959) was a well known and prominent artist of sporting scenes including croquet, rugby, golf, football, tennis and cricket. He was an authority on croquet and published seven books on the subject, 'A Croquet Alphabet' 1913, his most famous
Lot 894:

'Caught at the Wicket'. W. Davis 1902. Original pencil and watercolour painting of a cricket scene looking down the wicket from behind the wicket-keeper with the bowler, two batsman and umpire with hand raised. The painting appears to be after Lucien Davis who painted a similar scene in the 1880's. Framed and glazed. overall 12.5"x16"
Estimate: £60/90
Hammer price: unsold
Lot 895: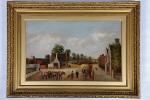 'Trent Bridge 1881/1888'. George Stevenson. Large oil painting on canvas showing a street scene with the Trent Bridge Inn to the left hand side with hay cart to right hand side and cows to foreground. On the walls to the right hand side of the Trent Bridge Inn are advertisements for cricket matches 'Notts v Surrey' and 'Kent v Notts'. The painting unsigned. The painting previously sold by Neales Auctioneers of Nottingham as lot 316 in September 2006. The sale label is printed George Stevenson (Exh 1881). To the back of the canvas is written 'Trent Bridge. Geo Stevenson 18/88'. Hence the two dates at the start of the lot entry. The painting framed in, what appears to be, an original ornate gilt wooden frame. Overall 34"x25". Good/very good condition
Estimate: £300/500
Hammer price: £250
Lot 896: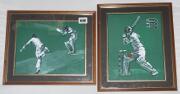 'Square Cut at Lord's' and 'Bouncer'. Two attractive chalk, pencil, acrylic and ink original paintings by E. Butanova, dated 2014 to back. Both signed by the artist. Both mounted, framed and glazed. Overall 10.5"x12.5" and 12.5"x10.5". VG
Estimate: £80/120
Hammer price: unsold
Lot 897:

Boy cricketer. Early original miniature portrait of a boy cricketer holding a curved cricket bat in one hand and ball in the other. Appears to be watercolour medium. The portrait, full length, appears to be painted on vellum and the boy is dressed in period 18th century attire. Unsigned. Some wear and staining to the image, generally good. Approx 4"x5.5". G
Estimate: £100/150
Hammer price: unsold